Seminars
You prefer to receive more details? Are you alone or planning for a group? If your desired date is not present, or you would like to combine differently, then just email or call us!
---
Yoga & Sound Healing with Claudia Hubberten and Larissa Israel
A carefully selected combination of complementary yoga exercises from i.a. Yoga Nidra, the Art of Sound Healing using Tibetan Bowls and Energy Work helps focussing on the heart chakra.
Retreat: 09. May – 15. May 2018 
---
Avenidao welcomes Veda Ela and Arati from Breathe Back to Life 
This yoga retreat will interweave asana practice with mythic narrative and yogic teachings to create a rich experience of alignment. Ela's gentle and compassionate dedication to yoga inspires and holds space for students to journey deeper into their body, heart, mind, and spirit.
This retreat is suitable for all levels and backgrounds.
Retreat: 30. May – 06. June 2018
---
Yoga week with Esther Ortz from Yogato 
A full week break with Vinyasa Yoga in the morning and meditation and Yin Yoga to relax and switch off in the evening. Energizing calm, to escape from everyday life and feel yourself again.
Retreat: 30. September – 07. October 2018 
---
Dive Deep with Maren Brand
Recharge your batteries in the pleasant October climate. The yoga retreat is a good opportunity to leave everyday life behind and to immerse yourself in yoga with a lot of peace and time.
A yoga practice of at least one year would be an advantage as we would like to deepen our yoga practice here.
Retreat: 13. October – 20. October 2018 
---
Stress down – Mindfulness & Awareness
Almost everywhere we experience some sort of stress and in very rare cases it is actually positive. In our everyday lives stress becomes rather more than less and sometimes creates a lump in our throat. Reducing stress? Very hard to achieve. Even on a lonely, sunny island we would certainly experience some sort of stress. However, dealing differently with stress can be learned. This is precisely the goal of our retreat. With mindfulness exercises, elements of Qi Gong and the Mindfulness Based Stress Reduction (MBSR) program we learn to switch off our autopilot, again to live in the here and now and to eventually feel the current moment again. The basis for more serenity and sovereignty in everyday life.
In four days of course, we can not completely wipe out stress, but recognize behavior patterns and provide a toolkit with which to be better equipped in everyday life. And that already is a very good start.
Next seminar autumn 2018  
---
Painting and yoga
Painting from the heart center.
In everyday life we are often recognized that we leave our body, the breathing and the emotions with little clearance. In order to break our habit patterns, we are expanding our space through meditation, yoga, breathing and visualization.
The beauty and energetic power of the colors of Majorca lead us into a world of sensations. Thus, we create free pictures full of inner peace, joy and self-confidence.
Next seminar planned for autumn  2018 again 
---
Yogaweeks, retreats and workshops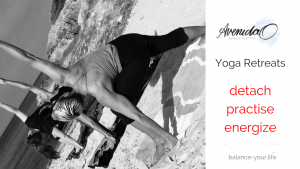 Individual retreats for singles, couples or small groups. Just give us a call or send a brief email and we get back in touch with you to plan a truly energising and individual retreat.
Individual course dates upon request.
---
 Martial arts and mindfulness
Enjoy an extended weekend nurturing your body and mind.
Is it the case that you have beginner or limited or maybe even no experience in martial arts? Ever thought about starting to get to better know your body in a safe and trusted environment? And maybe even complementing this physical experience with learning more about your own mind?
Then visit us for an extended weekend. You will learn self defence techniques, advance your body coordination movements and put all these in perspective with mindful acting and meditation. You will notice how it all complements each other. The martial arts training will be based on Dao Wing Chun, an internal kung-fu style sharing also elements of Chinese philosophy and health improvements.
We do plan with a small private group of no more than eight like-minded people.
Next seminar planned for autumn 2018